Crackdown on LGBT+ Protestors in Iran Amounted to Crimes Against Humanity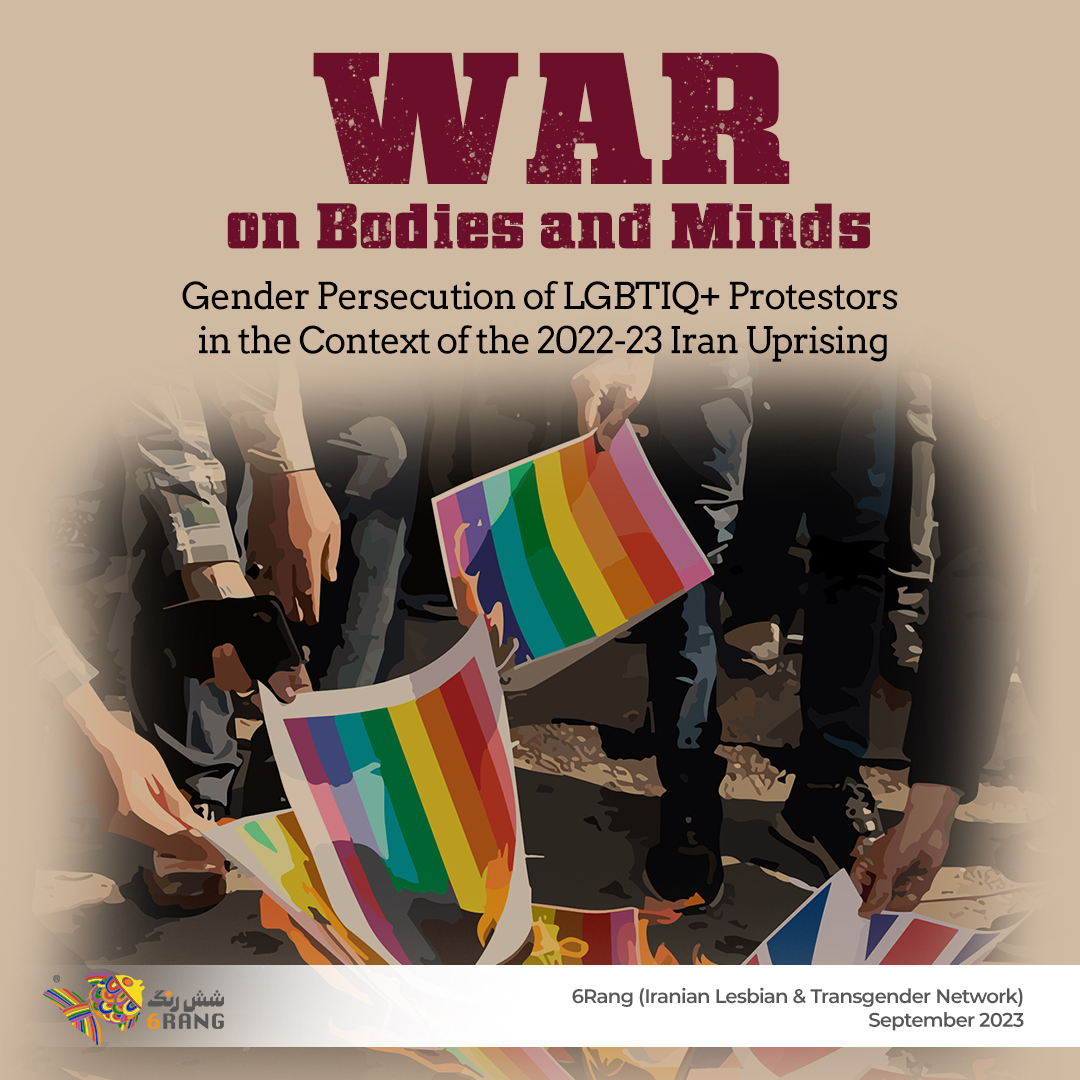 14 September 2023, Geneva: The Iranian authorities' treatment towards LGBTIQ+ people during the 2022-23 uprising amounts to the crime against humanity of gender persecution, new report finds.
6Rang (Iranian Lesbian and Transgender Network) has launched a groundbreaking report titled "War on Bodies and Minds" which exposes severe deprivation of human rights on grounds of gender during the uprising.
Marking the one-year death anniversary of 22- year- old Jina Mahsa Amini who died while in custody of the 'Morality Police', the report will be unveiled today in a side event jointly organised by 6Rang, ILGA, and Justice for Iran at the United Nations Human Rights Council. The report reveals that the highest ranking officials in Iran classified the peaceful national protests as a 'hybrid war' initiated by Western states and Israel, and responded with total suppression by any means.
Based on extensive research and testimonies of 70 LGBTIQ+ persons who participated in the protests, the report unveils disturbing accounts of persecution and harassment based on gender identity and sexual orientation.
LGBTIQ+ protesters were subjected to aggravated violence, including sexual and physical abuse, as well as verbal harassment. They were targeted primarily based on their gender expression and/or real or perceived sexual orientation deviating from societal norms and standards.
"We call on the international community to officially recognize the crimes of the Islamic Republic of Iran against the LGBTIQ+ protestors as crimes against humanity of gender persecution and hold Iranian authorities accountable for their involvement in these acts ," says Shadi Amin, 6Rang's Executive Director.
Already tormented with severely discriminatory laws and practice, the report uncovers the horrific experiences of these protesters who were deprived of their right to life, freedom from torture, and freedom of expression and assembly by security forces, detention centre officials, and judicial authorities. These violations were committed upon the discovery or suspicion surrounding their sexual orientation or gender identity.
In some cases, participants reported sexual assault and rape during protests and while in detention. The report highlights that sexual orientation or gender identity of these individuals, some under the age of 18, often became a focal point during interrogations.
The government's response claimed the lives of at least over 500 people, including 70 children, and left thousands severely injured, disabled, or arrested. Repressive measures extended to suspensions and expulsions from educational and work environments with detainees subjected to coerced confessions recorded on camera, torture, sexual abuse, and enforced disappearance.
Same sex conduct is criminalised under Iranian law. Punishments range from flogging to the death penalty. Judges, as per law, are authorised to sentence those who 'cross-dress' or fail to conform with social norms to 74 lashes. Iran's high-ranking officials are implicated in fostering a climate of hate and discrimination against sexual and gender minority communities, exacerbating these crimes and allowing them to go unpunished.
Download ِ English report here.
Download Farsi report here.