Matching Reports:
About us …
Rainbow 24/7 is the platform for mapping and responding to violence against Iranian LGBTI+ individuals and its main goal is to protect and promote the exercise of human rights in Iran.
Rainbow 24/7 empowers LGBTI+ individuals in Iran with (1) a 24/7 service for reporting incidents of violence and receiving emergency support, legal help, and psychological counseling. The provision of psychological and legal counseling has been made possible as a result of the cooperation efforts between Rainbow 24/7, Rainbow Counselling Centre, and Dastgiri (the Counseling Center for Civil and Political Activists); and (2) advocacy support with and on behalf of these victims using national and international mechanisms.
The Rainbow 24/7 platform, for the first time in Iran, gives LGBTI+ persons a platform to easily and anonymously communicate to the world about the human rights violations they experience on a daily basis at home, work, school, in public, and at the hands of the state. 
همیشه رنگین کمان چیست؟
همیشه رنگین‌کمان چطور کار می‌کند؟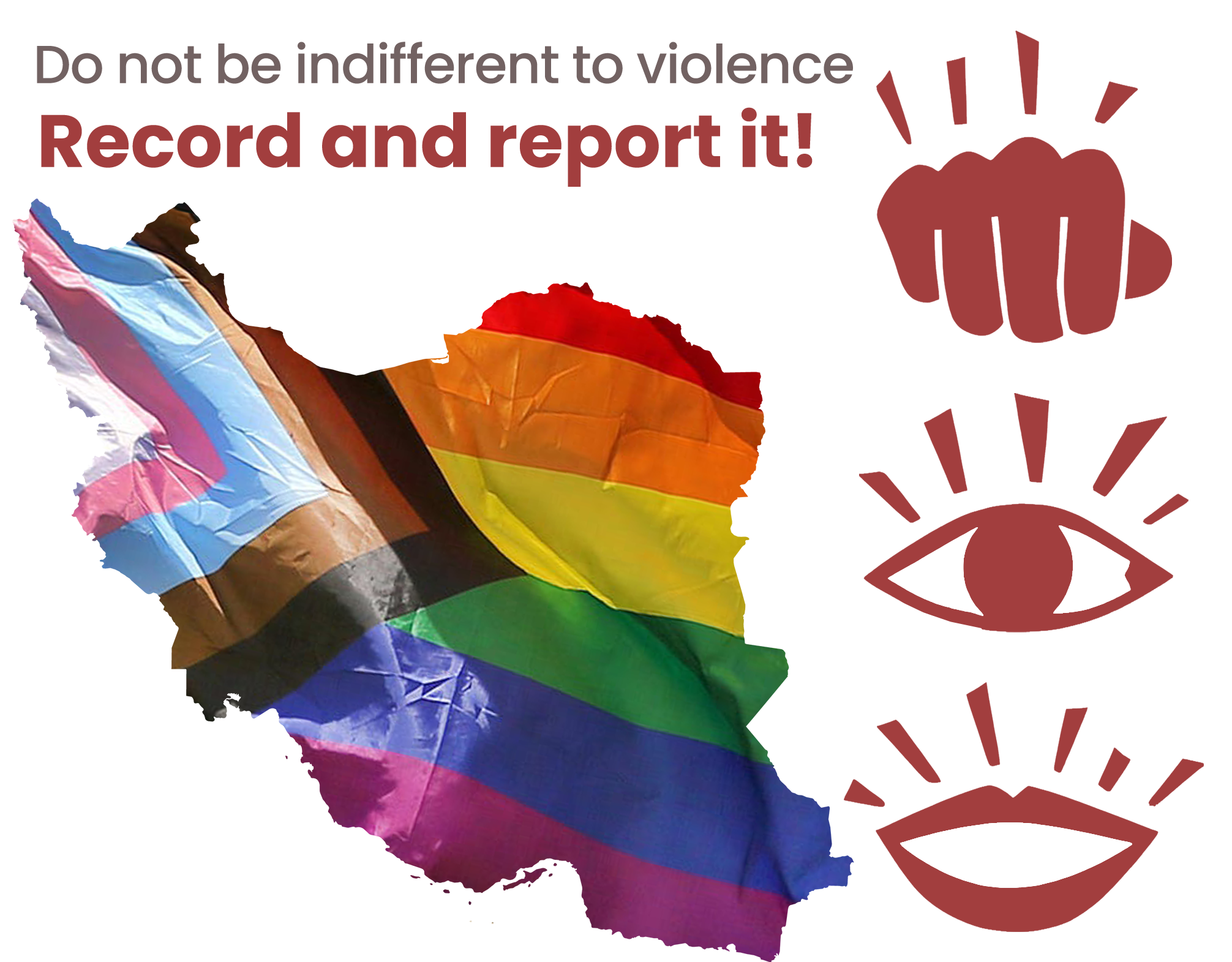 Your role in administering justice
Why is it important to document acts of violence?
Reporting an act of violence committed against you or those around you is important for informing society about our situation. This is so that we can ask them to stand with us and declare solidarity and empathy with us. You may think to yourself, "Why must I remember my pain, the horrible things that happened to me? Why must I write about it or document?" You, by documenting and sending it to this platform, can contribute to the struggle against violence and in preventing violence. By documenting the events and naming the perpetrators, you make their lives harder and make the lives of the LGBTI community safer.

By gathering and sharing important evidence of the violence you've seen, you're paving the way for future litigation and the prosecution of the perpetrators of these violent acts. Through documenting these events, we are all joining hands; we will not let our history, our struggle, or our efforts be forgotten, and we will hold those responsible for crimes or violent acts against the LGBTI community accountable.  
Let's begin today. Tomorrow may be too late.
Provincial Violence Reports
Latest News
FAQs
How can I report a case of violence?
Will my identity as a reporter be preserved?
Yes. This platform does not collect personal information and treats sensitive information with the highest level of confidentiality.
Will my contact information be published on the site?
No, your contact information (phone number, email address, etc) will not be displayed on the site in any way.